3 Challenges Holding Back RPA Success and How to Address Them
Reduce TCO and maintenance overheads with an integrated intelligent automation platform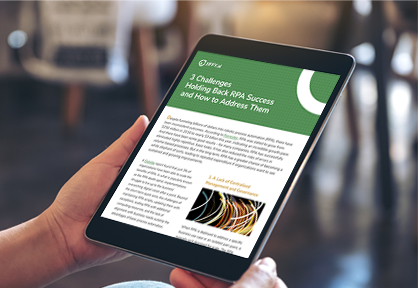 How well has your organization been able to sustain the initial success of Robotic Process Automation (RPA) implementation?

Does your existing RPA solution support new business processes?

Does it require constant technical intervention?
Get the white paper
Learn how you can use an integrated intelligent automation platform to reduce Total Cost of Ownership (TCO) and maximize your RPA investment for the long term.
DOWNLOAD NOW
By downloading, you agree to receive marketing communications from JIFFY.ai. You may unsubscribe at any time.
Get started on your intelligent automation journey.
By submitting, you agree to receive communications from JIFFY.ai. You may unsubscribe at any time. Your use of this website is subject to the JIFFY.ai Terms of Use and Privacy Policy.